Becky Sharp was formed during summer 2003 when childhood friends Joakim and Per needed a band where they could play some songs they had written. They contacted old friend/bandmate Gabriel who previously had played in 8 squares (a cover band) with them. He was originally intended to play bass. They also contacted Isac who previously had played with Gabriel. He was also known for being a kick-ass drummer.
Before the first rehearsal were set Pelle had met Fredrik (during strange military circumstances that will not be mentioned here) who is a guitar/bass player. Fredrik joined the band as a bass player and Gabriel took on the guitar.

Our first demo (Perfumed Garden) was recorded in Katrineholm (Sensus-studio) in November the same year. Fredrik Olofsson produced the demo and it contained the songs Becky Sharp, On The News, I Want It All (nothing more) and The Perfumed Garden. The first live-performance took place at Inferno (Katrineholm) in December 2003. During the first year it was all about playing live and learning to play live. We played almost one show a month, at the end of the year we had played 11 live-shows.

The second demo (Becky Sharp) was recorded between September - October 2004, once again in Sensus-studio, but this time with a new producer, Tomas Nilsson. I Erase You, White, 40 Plus, Enjoy The Show and Shame was recorded this time. The sound on this demo had turned away from the pop sound that we had on our previous demo. This time it was a little dirtier and with a more rock appeal. The rumor about us being a great live-band spread, but still, this year we only had about 6 live-gigs.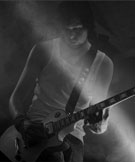 The third demo probably made us cut down on the gigs, although we had a couple festival-/other bigger gigs. We spent all summer in Sensus-studio with Tomas to record our third demo (Owner's Manual). On this demo the pop influence was back but the rock touch was still present. The tracklist was: Beyond Believing, Users Manual, Pleasant Summertown (mislabeled on the demo as Pleasant Summertime), Please and Show Me A Smile. Show Me A Smile has only been performed live one time.
After a gig in Norrköping, Fest-i-valen, one of our best gigs ever by the way. We began talking about recording a full-length album. After some discussion the decision was made, Becky Sharp would record their debut album!

The Album, without a title so far, was recorded with Tomas producing together with Becky Sharp during the summer of 2006. Songs from the old demos were now re-recorded and some new songs had been written for the album. It's our strongest record/demo so far with great music and a killer sound.
Becky Sharps debut album, Cut & Coloured, is now released! And you can buy it from our website and in some stores in Linköping and Örebro so far (it will show up in more stores soon) And keep an eye open if Becky Sharp shows up in a town near you, you DON'T want to miss it!